Netpluz Named Among the Top 250 MSSPs in 2023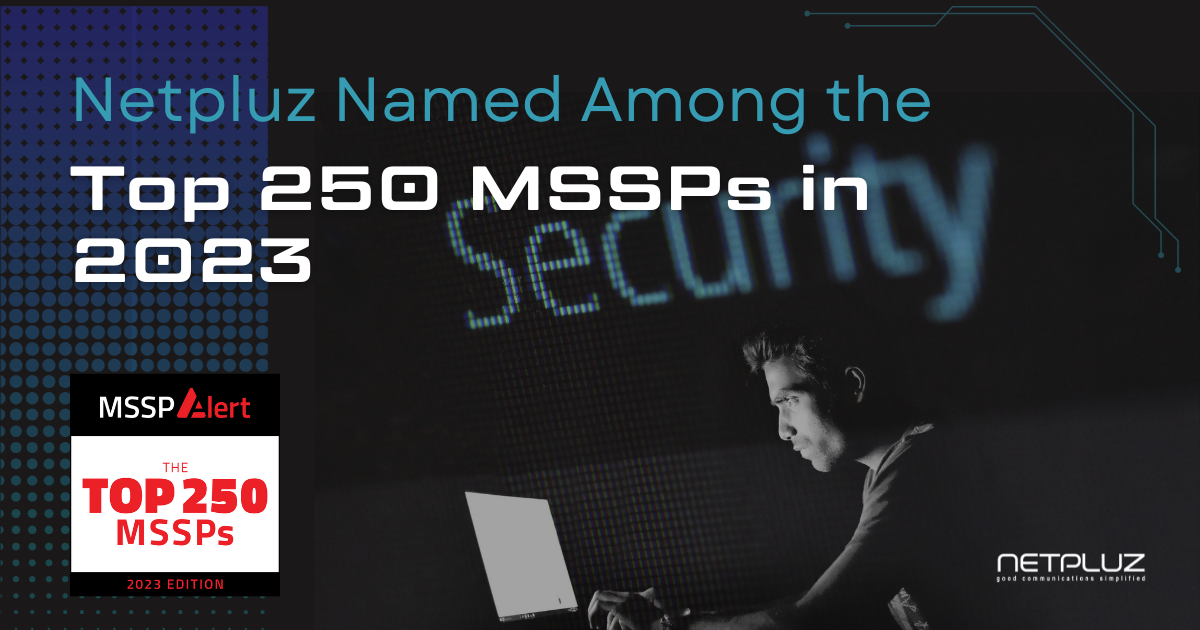 Netpluz named to MSSP Alert's 2023 List of Top 250 MSSPs
[22 Sept, Singapore]: Netpluz ranks among the Top 250 MSSPs (https://www.msspalert.com/top-250) for 2023, according to MSSP Alert, a CyberRisk Alliance resource.
The Top 250 MSSPs honorees were announced in a live webcast on September 14.
Key findings include:
MSSP Revenue Growth & Financial Performance: MSSP honorees, on average, expect to generate $56.3 million in revenue for 2023, more than double the number from our 2022 report. However, the 2023 Top 250 reported 2022 revenues averaged $47 million.
Geography: Honorees are headquartered in 37 different countries.
Profits: 87% of MSSPs surveyed expect to be profitable for fiscal year 2023.
Security Operations Centers: 67% have in-house SOCs, 23% are hybrid, 8% completely outsource their SOCs, and 1% are reevaluating their SOC strategies.
Cyberattack Trends: The most frequent attacks targeting MSSP customers in 2023 include phishing (95%), vulnerability exploits (91%) and ransomware (86%).
Cybersecurity Solutions: Larger MSSPs were more likely to run their SOC entirely in-house (85%) while just half of our smaller segment MSPs ran their SOCs in-house and 33% took a hybrid approach (a portion in-house and a portion outsourced.)
Key Managed Security Services Offered: Almost all of the larger MSSPs (90%) provided 24/7 security event monitoring and response for threat detection use cases on their own. While 61% of the smaller MSSPs provided these services on their own, 35% partnered with another company for these services and 4% of the smaller MSSPs did not offer them at all.
Netpluz was ranked among the Top 250 MSSPs for 2023.
"We're thrilled to be named among the Top 250 MSSPs for 2023 by MSSP Alert." said Lau Leng Fong, CEO of Netpluz. "This recognition underscores our dedication to providing top-notch managed security services. Netpluz remains steadfast in our mission to protect businesses from evolving cyber threats, and we're excited about the opportunities that lie ahead. Our team's commitment to excellence and innovative solutions drives our success. Thank you to MSSP Alert and CyberRisk Alliance for this prestigious acknowledgment" he added.
"MSSP Alert and CyberRisk Alliance congratulate Netpluz on this honor," said Jessica C. Davis, editorial director of MSSP Alert, a CyberRisk Alliance resource. "The Top 250 MSSPs continue to outperform the overall cybersecurity services market in 2023. It's an indication of the strength of managed security services provided by these specialists at a time when cybercrime has accelerated and threatens businesses of every size and from every industry." she added.
MSSP Alert's annual ranking and research report, overseen by Jessica C. Davis, underscores Netpluz's commitment to delivering top-tier managed security services. Netpluz's continued growth and dedication to excellence position it as a trusted partner in safeguarding organizations against evolving cyber threats.
As we celebrate this recognition, Netpluz remains dedicated to enhancing cyber resilience. With a technical team boasting over 20 years of managed services experience in the ICT industry, we are well-equipped to address the unique needs of businesses across the Asia-Pacific region. Our vision is to become the foremost Managed Communication Service Provider in the Asia Pacific, and we are poised for continued growth and innovation as we expand our footprint across Southeast Asia.
MSSP Alert's Top 250 MSSPs list and research report are overseen by Jessica C. Davis, editorial director, MSSP Alert and ChannelE2E.
Click here to download the list and associated report.
[About Netpluz]
Netpluz is a Regional Managed Communication Service provider headquartered in Singapore, with regional presence in Malaysia, Philippines, and Thailand. With a comprehensive range of communication services, including cybersecurity, cloud solutions, data services, and voice services, Netpluz is committed to delivering reliable, secure, and simplified solutions to businesses. With a customer-centric approach and a team of industry experts, Netpluz empowers organizations to achieve their digital transformation goals.