Netpluz Asia is now CSA Cyber Trust Mark (Advocate) Certified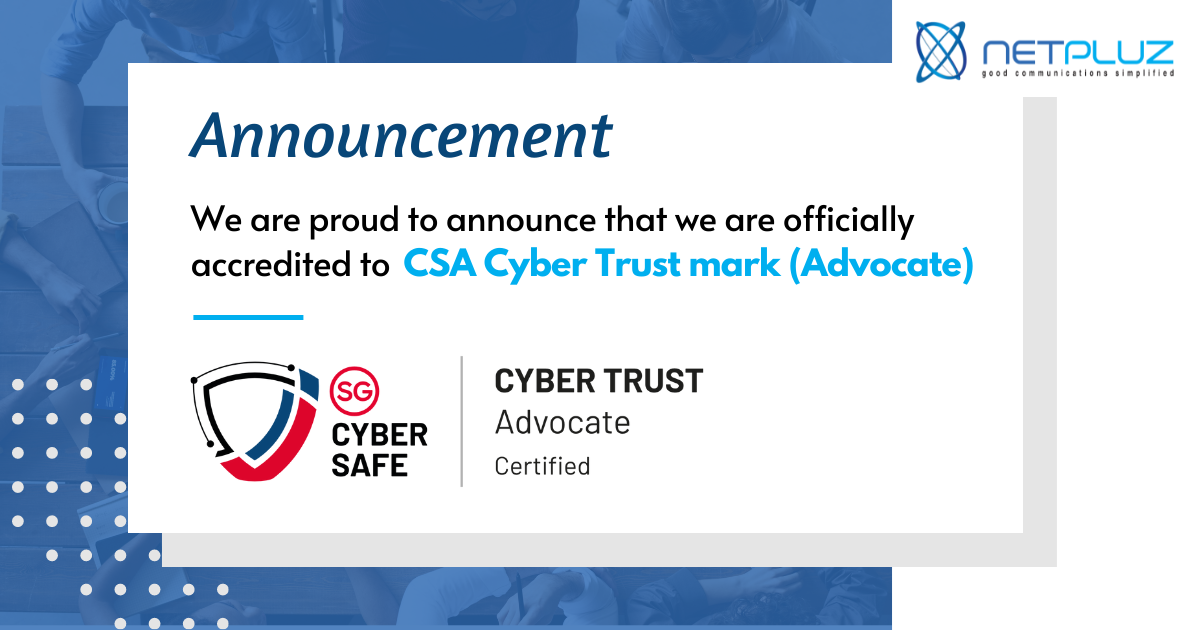 Netpluz Asia has attained SG CSA Cyber Trust Mark (Advocate) certification!
In 2022, the Cyber Security Agency of Singapore (CSA) developed the Cyber Trust mark, a cybersecurity certification for organizations with more extensive digitalized business processes. It serves as a distinctive mark to demonstrate that we have adopted the cybersecurity best practices and measures according to our cybersecurity risk profile.
CSA accredits Netpluz Asia to be Cyber Trust mark (Advocate), the highest tier of Cybersecurity Preparedness which indicates that we are an organization with a leading digital maturity level.
We understand that due to the nature of our business, we are evidently exposed to higher risk levels in the business environment. Thus, we have invested substantial effort and resources in our team's expertise to protect and manage our Information Technology (IT) infrastructure. Trust and reliability are so important to us that we are always committed to protecting our client's assets.
What is CSA Cyber Trust Mark exactly?
To help Singapore enterprises to raise their cybersecurity posture, the Cyber Security Agency of Singapore (CSA) has launched the SG Cyber Safe Programme. It is part of the Safer Cyberspace Masterplan launched in October 2020, which its objective is to raise Singapore's general cybersecurity level.
The cybersecurity certifications for enterprises, including Cyber Essentials and Cyber Trust marks, are a part of the program developed to recognize organizations adopting best cybersecurity practices. While the Cyber Essentials mark recognizes businesses 3with cyber hygiene measures in place, the Cyber Trust mark is a mark of distinction that identifies enterprises that implemented comprehensive cybersecurity measures and practices. The two cybersecurity certification marks were introduced in conjunction with partners in the sector, including certification practitioners, trade associations, and technology providers, and take into account the various organizational profiles and operational requirements of Singaporean organizations.
There are five tiers of Cybersecurity Preparedness, each with 10 to 22 domains. Businesses can determine which Cybersecurity Preparedness tier best suits their needs using the Cyber Trust mark risk assessment approach.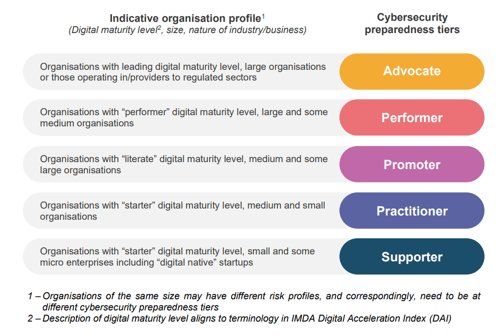 (Chart Adapted from CSA)
Netpluz Asia is accredited with Cyber Trust mark (Advocate) 5th tier of Cybersecurity Preparedness and our cybersecurity level of preparedness is measured against several domains as below:
Governance

Policies and Procedures

Risk Management

Cyber Strategy

Compliance

Audit

Training and Awareness

Asset Management

Data Protection and Privacy

Backups

Bring-Your-Own-Device (BYOD)

System Security

Anti-Virus/Anti-Malware

Secure Software Development Life Cycle (SDLC)

Access control

Cyber threat management

Third-party risk and oversight

Vulnerability assessment

Physical/environmental security

Network security
What does this mean for our clients?
Netpluz is always on the way of pursuing certain certifications or being recognized by trusted parties, as we believe that it can further demonstrates our commitment to superior professionalism, upholding industry standards, and continued learning. Eventually, boosting our client's confidence in our ability to protect our own IT infrastructure as well as our credibility to ensure the safeness and secure digital infrastructure for our clients.