Netpluz Asia is now ISO 27001 Certified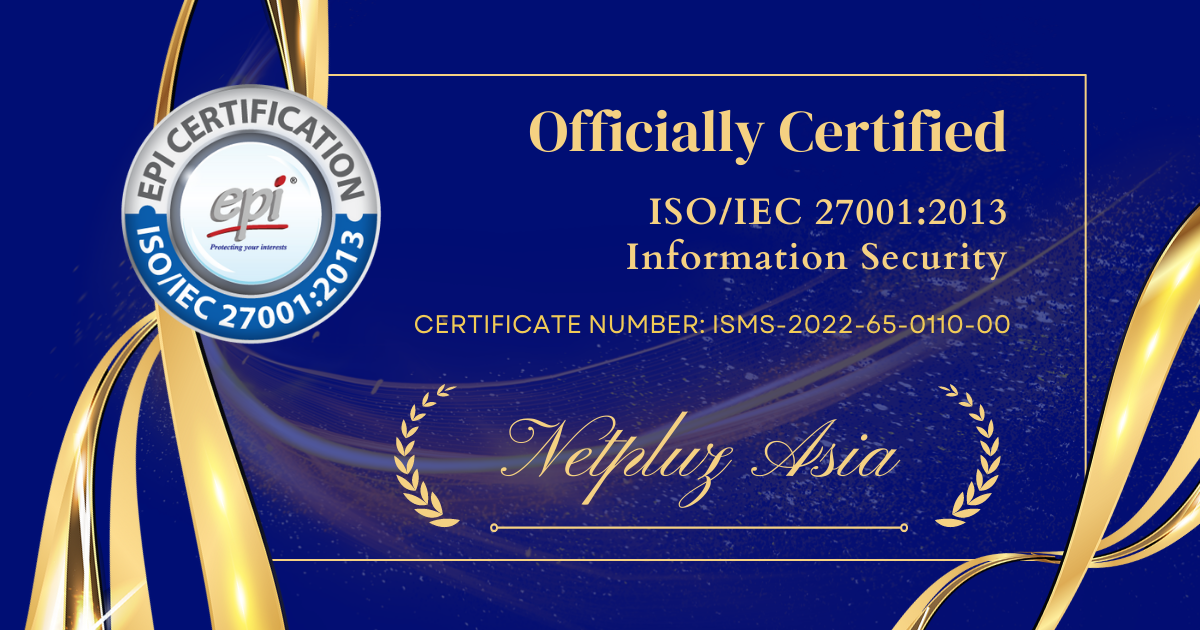 The team at Netpluz Asia is delighted to be officially certified for ISO/IEC 27001:2013!
The ISO/IEC 27001:2013 certification is an internationally recognized standard that ensures our managed communications service meets the best practices for an information security management system. This demonstrates our commitment to secure information management.
Using this collection of standards will help our organization manage the security of assets such as financial information, intellectual property, employee details, or information entrusted to us by third parties — for cloud hosting and other services.
Why did we pursue the ISO 27001 certification?
Trust is important to us, and we're committed to protecting our clients' data. We believe having the highest standards of information security for ourselves and our clients sets us apart from the competition. Thus, it is vital for us to become ISO 27001 certified, not just ISO 27001 compliant.
Netpluz Asia is no stranger to cyber security or information security practices. As a Managed Communications Service Provider, cybersecurity offering is part of our robust offerings to our customers and partners across all industry verticals.
We are committed to following a high-quality and consistent security management system, backed by an independent, expert assessment of whether all the data we process is adequately protected. Therefore, through ISO 27001, we have developed and implemented processes and procedures to provide requirements for establishing, implementing, maintaining, and continually improving an information security management system. The entire certification leads us to the appropriate conditions for an information security management system (ISMS) in our company — a systematic approach to managing sensitive company information to remain secure. It includes people, processes, and IT systems applying a risk management process.
Netpluz Asia has achieved the ISO 27001 certification result after considerable effort and involvement from every employee of Netpluz Asia. We are constantly challenging ourselves to improve our service and provide the highest security standards and privacy that meet or exceed the needs and expectations of our customers, to always comply with strict standards of other specifications and regulations.
What does this mean for our clients?
"This certification proves that we know how to protect the valuable information we use to deliver strategic results for our clients. This means our clients (current and future) can have confidence in our processes and data management, freeing up more time to focus on driving ROI. When our clients don't have to worry about how we manage data and confidential information, they can focus on how we can drive their bottom line. Everybody wins." – Lau Leng Fong, Chief Executive Officer, Netpluz Asia
At Netpluz Asia, we wanted to further demonstrate our commitment to clients by achieving certification to ISO 27001 for the following reasons:
I) Security Framework
We decided to implement this international standard as we recognize the need for our clients to protect themselves against data threats in the current environment. ISO 27001 enabled us to put a framework in place to implement business processes that helped us identify, manage and reduce the risks relating to information security. Thus protecting our clients against the threat of data theft, breaches of information, hacking or stolen information.
II) Protecting information
Data theft is a genuine concern, so we can protect our clients' information throughout the scanning process by implementing processes. This gives them confidence that we will securely collect, store, and exchange information. Protecting our clients and ourselves against potential threats such as information leakage is critical. By implementing ISO 27001, we protect our own data and our employees and stakeholders. Meaning we can ensure confidentiality and guard against any data breach.
III) Compliance
As Netpluz Asia, we have been serving clients in multiple industries such as Financial Services, Manufacturing, Logistics & Supply Chain Management; these clients require us to be certified and compliant with top industry standards for assurance. With ISO 27001, we have brought that compliance level to an even higher international standard level. Our compliance will ensure our clients are well-protected.
IV) Risk Management
Implementing this systematic approach to managing sensitive company information means that it remains secure. The company is applying a risk management process in all aspects of the business, including people, processes, and IT systems. Using ISO 27001, we manage the security of assets such as financial information, intellectual property, employee details, and all information entrusted to us by our clients.
Netpluz Asia is confident that having this certification will give our clients additional confidence in our ability to handle their information safely.