Netpluz is now CREST Accredited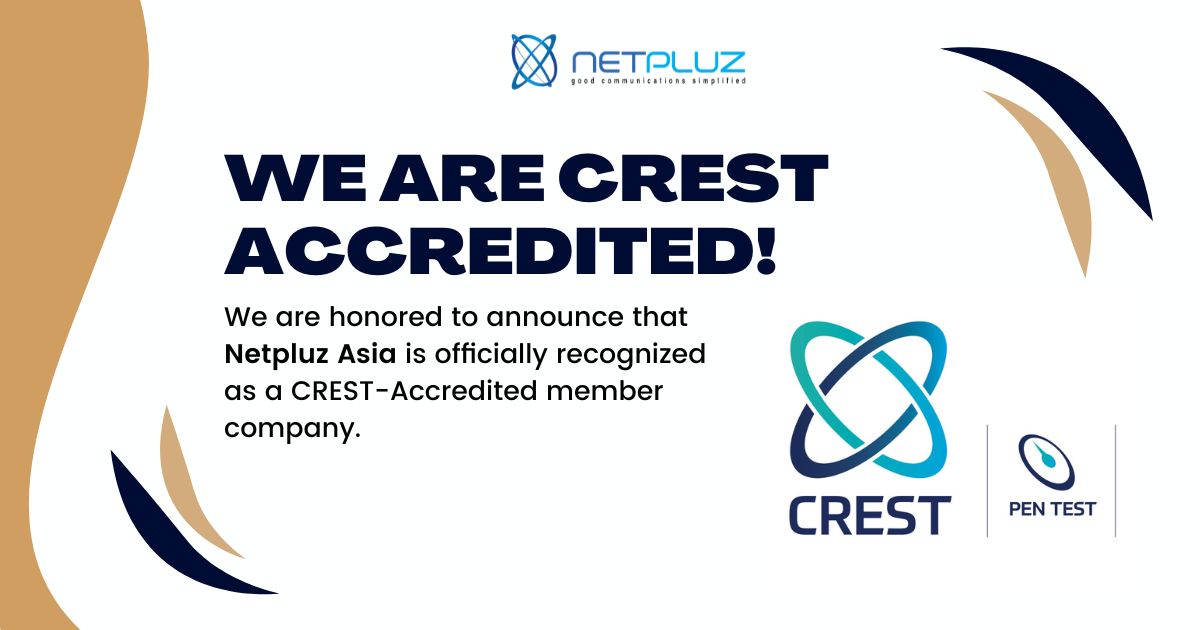 Netpluz Asia is CREST Accredited!
We are delighted to announce that Netpluz Asia is a CREST accredited company now! This serves as another important milestone of the year for us.
In today's digital world, keeping confidential information safe and secure is undeniably a serious challenge. Thus, it is understandable that companies want to be sure that the cyber security service providers they engage to protect their systems are competent and reputable. As a CREST accredited member company, we believe that our customers (current and future) will be more confident that our services are quality assured against measurable and enforceable standards and competencies.
About CREST accreditation
CREST certifications have already become the de facto standard in the UK and Australia and through the provision of CREST-accredited companies and CREST-certified professionals, we are now able to deliver increased levels of confidence to the buying community in Singapore.

– Ian Glover President of CREST International
CREST qualifications are a mark of excellence. It is recognized worldwide as a trusted InfoSec Accreditation and certification organization. It offers accreditation for cybersecurity service providers providing SOC, Incident Response, Threat Intelligence and Penetration Testing. CREST accreditation aims to provide a clear indication of the quality of the service provider and technical capability of the employees to help security buyers in selecting reliable and competent service providers.
To become a CREST member company, the company's processes, policies and procedures (eg: post technical delivery, transmission controls, data storage and technical methodology) must have been assessed by CREST and are deemed fit for purpose.
In other words, we are recognized by CREST as a service provider that offers a demonstrable level of quality for cybersecurity services through the appropriate implementation of appropriate processes, policies and procedures.
More than being accredited.
To provide better quality services, we simply consider certifications as a sign of a minimum standard. To maximize our customer's value, we rely on our innovation, diverse expertise and customer-centred mindset. With a team of outstanding cybersecurity professionals who begin every engagement with rigorous, goal-focused scoping, we are proud to provide the best-in-class service. Being accredited is just the beginning for Netpluz, beyond technical competency and reliable processes, we continuously strive to deliver the best customer experience and quality cybersecurity services.
Contact us now for a CREST-accredited Penetration Testing service for your organization!